Harvard Club Lunch: Thursday, October 27
HARVARD CLUB MONTHLY LUNCH @ Neighbors cafe
Thursday, October 27, 12:30-2:00 pm
Neighbors Cafe
5910 S. Fort Apache Road
Las Vegas, NV 89148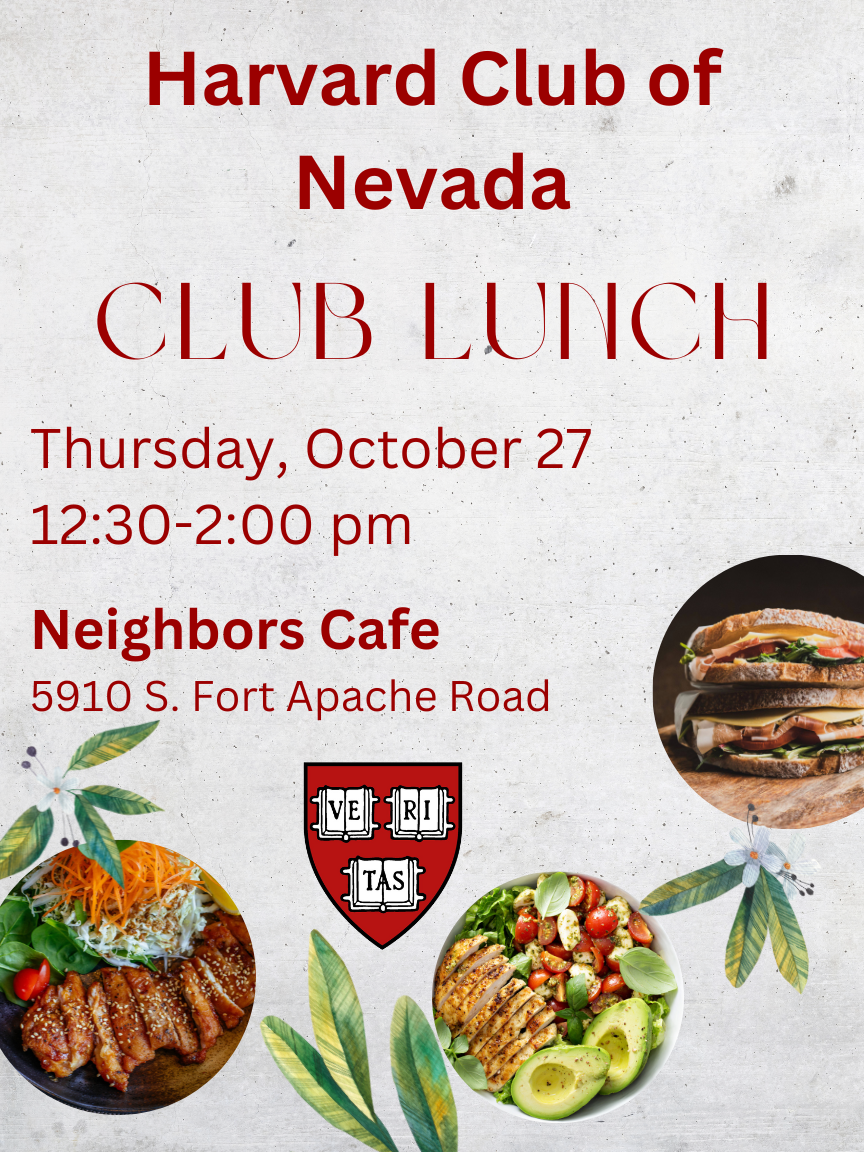 Club Lunches are back!
Please join us at the first Club Lunch since 2020. These casual afternoon events are designed as a fun and informal way to meet, network, and connect with the local Harvard alumni community. For those new to the area, this is a great opportunity to be introduced to the Club as well as learn more about Las Vegas culture, events, and resources.
-
Bob Kelley (HBS '69), Mimi Grant (OPM '84), and David Orentlicher (HBS, HLS) will organize this no-host lunch event. Please contact Mimi (email: Mimi@abl.org) for any additional questions/info.
Please RSVP below by Tuesday (10/25), if possible, so we know what size table to reserve. Walk-ins are still welcome.
---
Cost: Your lunch ($20-25)
-
"Neighbors is a modern cafe serving delicious food and providing a casual comfortable atmosphere to enjoy with family and friends. In this wonderfully busy and hectic city of ours, it's nice to relax and have a light comfortable place to just grab a coffee, a quick bite, or share a nice hearty and healthy meal with friends and family."
-Ample free parking at the venue.
When:
12:30PM - 2:00PM Thu 27 Oct 2022, Pacific timezone

Where:
Neighbors Cafe
5910 S. Fort Apache Road
LAS VEGAS, NV 89148 USA
[ Get Directions ]
RSVP Here...
Look Who's Coming:
Mimi Grant
ABL Organization
Christina Kao
CKO Kickboxing
Scott Chatley
Right Beach Media Group
Tom Hillery
Starlight Productions
Mier Chen
FJDynamics
Jo Ann Prevetti
Las Vegas Clark County Library District
Carmen Beals
Nevada Museum of Art
Gerry Slater
Rusty Hoover
Pius Tse
Kerry Morrison
Realty One Group
Michele Schade
Michele Schade
Andrea Zuckerman
Andrea Zuckerman
Bob Kelley
ABL Organization
David Orentlicher
UNLV William S. Boyd School of Law
C William Coakley
Harvard Club of NV
Gary Sutton
retired
Andrea Zuckerman
Cecelia Di Mino
HGSE
Andrea Zuckerman
... a total of 24 guests.
Note: to opt out from this list please sign in, go to My Account and change your preferences under My RSVPs.