-
Harvard Club Summer Lunch: Thursday, July 13
-
Sundry @ The UnCommons
6840 Helen Toland Street
Las Vegas, NV 89113
Please join us at our summer Club Lunch! These casual afternoon events are designed as a fun and informal way to meet, network, and connect with the local Harvard alumni community. For those new to the area, this is a great opportunity to be introduced to the Club as well as learn more about Las Vegas culture, events, and resources.
-
-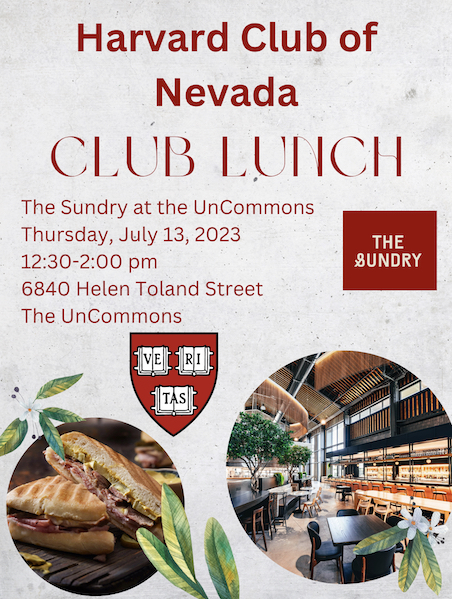 When:
12:30PM - 2:00PM Thu 13 Jul 2023, Pacific timezone

Where:
Sundry @ The UnCommons
6840 Helen Toland St.
Las Vegas, NV 89113
[ Get Directions ]
Enter Waitlist Here...
Look Who's Coming:
Jeff Reiman
Harvard Club of Nevada
Gerry Slater
Malcolm Turner
DraftKings, Inc.
Amin Toufani
Adaptability.org
Mary Jo Wilen
Vladislav Silayev
Erica Medley
Holland & Hart LLP
Ming-Yee Lai
Mimi (Mariceleste) Grant (Kelley)
ABL Organization
David Kim
Matter Real Estate
Yuan-Fen Lai
New York Life
Tom (Thomas) Hillery
Flexiphone, LLC
Karen Deol
Don Eichelberger
Dana X. Marshall
Lindsey Hightower
Natpat Chanjavanakul
Bob Kelley
ABL Organization
Eric and Kim Dai
Eric and Kim Dai
Jonathan Shecter
Playback Prodigy
Sunnuy Tara
CareCognitics
Telia Williams
CJ Park
Christina Kao
George Chin
Mindy (Woodhead) Caprioglio
Aury Nagy
NV State Board of Medical Examiners
Pius Tse
Chih-Duen Tse
Kerry Morrison
Realty One Group
Dana Ramos
Jacob Luna
... a total of 34 guests.
Note: to opt out from this list please sign in, go to My Account and change your preferences under My RSVPs.